ID 100C
Pre-sterilized, disposable needle
CBSG and CITES approved
Biocompatible glass encapsulation
Unique ID codes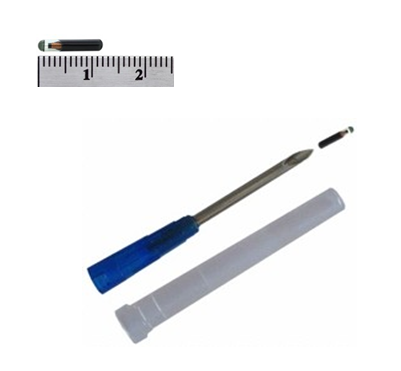 U.S. Patent Nos. 5,012,236;5,084,699; 5,095,309; 5,198.807; 5,223,851; 5,281,855. Addt'l U.S. and overseas

patents pending
6x adhesive label featuring ID number in numeric and barcode 39 format
The ID-100C Implantable Transponder is a reliable, humane technology for animal identification, designed to provide life-long, positive identification for animals. The ID numbers are fixed during manufacture, and cannot be altered by third parties. The code uniqueness is protected by patent. The transponder itself is the size of a grain of rice, and is implanted just below the skin, in a simple procedure much like a vaccination. The ID-100C features our new, shorter 32 mm canula.
Because of its long reading distance, the ID-100C Implantable Transponder can be read using pass-by panel readers. Therefore, animal handlers in shelter environments and other high volume processing areas do not need to touch or individually handle unknown and potentially dangerous animals. Each transponder is encapsulated in special, biocompatible glass, individually pre- sterilized and packaged in a bubble pack. It comes ready for application, in its own disposable needle and with 6 ea. adhesive labels featuring the ID code in human readable (alpha-numeric) and barcode 39 format.
TRANSPONDER
DIMENSIONS
Length:             11.5 mm (0.44 in.)
Diameter:           2.12 mm (0.083 in.)
IM-200C Single shot implanter, suitable for use with ID-100C and ID-100B/1.4 mini transponders.
IM-300C Pistol Grip Implanter
WEIGHT
0.095g ±0.02g IDENTIFICATION CODE
64 bits, factory pre-programmed PROTOCOL
TROVAN ENCAPSULATION
Biocompatible glass READING RANGE
GR-250                up to 24 cm (9.45 in.)
Maximum            up to 33 cm (13 in.) TRANSMIT TIME
119 µs/bit SCAN ANGLE
Spherical
STORAGE TEMPERATURE (tested exposure 1 hour)
-40˚C to +90˚C (-40˚F to +194˚F) OPERATING TEMPERATURE
-25˚C to +85˚C (-13˚F to +185˚F) OPERATING FREQUENCY
128 kHz ENVIRONMENT
IP68 MECHANICAL FORCE
Axial max. 10N Radial max. 40N
VIBRATION
Random -20 to 2,000 Hz/10 g./1 hr. p. axis Sine -20 to 2,000 Hz/5 g/1 hr. p. axis
NEEDLE
DIMENSIONS
Length:                 32 mm (1.26 in.)
Outside dia.:        2.6 mm (0.10 in.)
PRESENTED BY: Locus Technology, Inc. 3989 Rupp Rd., Manchester, MD 21102. Tel: 443 507 5196.
U.S. Patent Nos. 5,012,236;5,084,699; 5,095,309; 5,198.807; 5,223,851; 5,281,855. Addt'l U.S. and overseas
patents pending