ID 100B/1.25mm NANO Transponder
By combining the smallest transponder dimensions with a functional read range, the ID100B/1 .25mm Nano provides a minimally intrusive solution for smaller species including neo-natal animals. A 16.5-Gauge, ultra-thin wall thickness needle (0.125mm) reduces animal stress during transponder implantation. The Luer locked hub on the needle providing a secure gun to cannula connection ensuring a stable implantation process.
The Trovan "Unique" transponder has laser-programmed ROMs, mechanically encoded during manufacture, and as such, are not subject to the same limitations or identification number duplication risks, inherent in other manufacturer's chips. Similarly, the patented design contains only 6 components compared to up to 19 built into other chips, consequently reducing the number of possible failure points.
Bio Compatible Glass encapsulation
Unobtrusive, even in the smallest species (eg neo-natal)
Read range – 75mm with GR 250, Over 30mm with LID 573
Each transponder comes in sterilized blister packs
Reusable Implanter with disposable needle
Small diameter allows positioning in Gauge 16.5 needle
20 mm long needle with ultra-sharp beveled needle
Luer Lock fitting implanter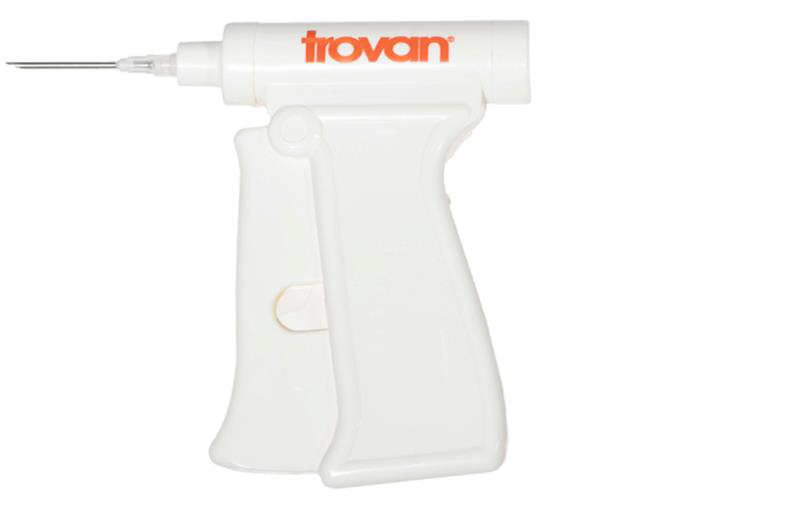 Implanter with 16.5 Gauge needle attached
Specification Sheet
Locus Technology, Inc. info@locustechnology.com ID100B/1.25 NANO & IMPLANTER 1/23/2023